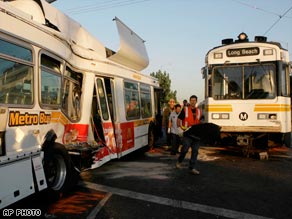 LOS ANGELES, California — A metro train and a bus collided Friday, injuring at least 15 people near downtown Los Angeles, officials said.
The crash happened a week after a deadly collision involving a commuter train in a Los Angeles suburb called Chatsworth, California.
Passengers on the Metro Blue Line train were hurt in Friday's accident but the injuries were minor, said D'Lisa Davies, spokeswoman for the Los Angeles Fire Department.
The driver of the bus, which was not carrying any passengers, was among those injured, she said.
There were 230 to 250 passengers on the train, said Metro spokesman Jose Ubaldo. It was heading east to downtown Long Beach.
Chris Romero, 31, told The Associated Press the sound of screeching metal woke him and he ran from his apartment to the tracks.
"With everything that's going on, it's scary to go on the Metro," he said in Spanish through an interpreter. He told AP he would not take the train "right now."
The cause of the crash was under investigation.
If you were injured in this crash you may call our firm for a free consultation 7 days a week, 24 hours a day at 800-816-1529, extension 1.
Our law Firm has successfully handled many cases against the Los Angeles County Metropolitan Transit Authority.
If you were injured you have only 6 months from the date of accident to file a claim with the governmental entity otherwise you will lose your right to sue. It is critical that you retain an attorney as soon as possible to protect your legal rights.
Los Angeles Metro Bus Accident Attorney and Los Angeles Metro Train Accident Attorney