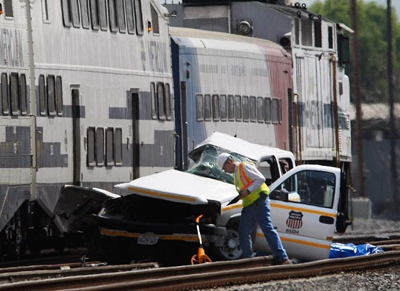 LOS ANGELES — California
A Metrolink commuter train hit a maintenence truck parked on a set of railroad tracks in the San Gabriel Valley on Saturday, killing a railroad worker who was sitting in the truck and leaving three train passengers with minor injuries, authorities said.
The person killed was an employee of the Union Pacific Railroad who had been doing maintenance work with a crew on freight tracks, said Metrolink spokesman Francisco Oaxaca. The area where the collision occurred is a mix of Union Pacific tracks and tracks maintained by Metrolink.
When the commuter train hit the Union Pacific Railroad maintenance truck at about 9:20 a.m., it was on Metrolink tracks, traveling east of Los Angeles along the border of the city of Industry and the unincorporated community of Bassett.
Authorities said there were many reasons why the worker would be in the area, but investigators were trying to determine why the truck was on the tracks. They do not believe it was suicide.
"There is nothing to indicate that this person intended to be struck by the train," Oaxaca said.
Union Pacific spokeswoman Lupe Valdez said the crash "appears to be an accident.
Three Metrolink passengers were taken to the hospital with minor injuries, said Metrolink spokeswoman Angie Starr. An engineer and conductor, two sheriff's officials and 138 passengers were on board the train, Oaxaca said.
There was only minor damage to the train, which was led by a locomotive with another engine behind it.
Valdez said the employee has worked for Union Pacific for about 30 years. His name has not yet been released.
In recent years Metrolink has experienced several major crashes.
In December, a commuter train from the Southern California agency struck a pickup truck that drove into its path, injuring six people.
In 2008, 25 people were killed when a Metrolink train collided with a freight train. Investigators believe the Metrolink engineer ran a red light seconds after he was text messaging on his cell phone.
In 2005, 11 people died and about 180 were injured when a man who later claimed he was suicidal parked his sport utility vehicle on the tracks in suburban Glendale. The driver of the SUV was convicted of murder.
California Train Accident Attorney and Metrolink Accident Lawyer Website