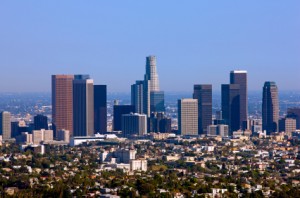 A lawsuit has been filed to try and block a new Los Angeles police policy that will let unlicensed drivers, including undocumented immigrants, skirt a mandatory 30-day impound rule after a traffic stop.
A group of civil rights attorneys filed the complaint on Thursday in Los Angeles Superior Court.
The complaint seeks to block enforcement of LAPD Chief Charlie Beck's new policy to prevent "wasteful, unlawful and unconstitutional police policies."
It names Beck, CHP Commissioner Joseph A. Farrow, the city of Los Angeles and also the state of California.
"The problem with the 30-day impound is it's enforced against people with basically not much money," said Donald W. Cook, an attorney who filed the complaint. "It really is a financial racket. It's a Robin Hood in reverse.
"This isn't regarding the state's power to seize and take away from the street cars that cannot be left on the street for just about any number of reasons," Cook said. "It's about ability of the owner to obtain the car back less than Thirty days and in many cases immediately."
Cook and his fellow colleagues have a similar case that's pending in federal court.
Several cities, including L.A., produced motion recently to have that case dismissed, claiming the issues are already decided by an earlier appellate court ruling.
The judge could rule on the motion any day, Cook said.
No court date in the most recent case has been set.
LAPD spokesman Gus Villanueva said the department had not seen the complaint and could not comment.
The complaint argues the LAPD policy change illegally requires a mandatory 30-day impound of drivers stopped with an expired California driver's license or even a foreign driving license.
It argues the department unlawfully prevents the owners of vehicles from getting their cars back before 30 days when another driver who is not the owner was to blame for any violation and impound.
The complaint also contends LAPD procedures for notifying vehicle owners of an impound deny alleged violators due process by not notifying them of any hearing date to contest an impound.
The city Police Commission a week ago approved a new policy that allowed offenders who have valid identification, car registration and proof of insurance to avoid a mandatory 30-day impound.
Under the policy, drivers who were at fault in an accident, or had prior convictions for driving unlicensed wouldn't be eligible for a shortened impound.
Beck, who proposed the policy with the backing of immigrants' rights groups and Mayor Antonio Villaraigosa, said last week the modification was an attempt to get rid of confusion by officers in the field over two conflicting laws regarding when to impound a car or truck as well as for how long.
He also said the policy discriminated against undocumented immigrants, who are unable to get driver licenses.
Two attorneys behind the lawsuit argued it did not go far enough, saying it does not curtail the high costs of getting a vehicle towed and impounded.
A 30-day impound costs about $1,500, as outlined by attorney Cynthia Anderson-Barker.
The Los Angeles Police Protective League, the union representing rank-and-file police officers, challenges the plan. The union believes the law encourages more unlicensed drivers to be on the highway and jeopardizes public safety.
The LAPD impounded about 30,000 cars last year. About Eighty-five percent of such were for violations of the state vehicle code that mandates a 30-day impound.
A memo by the state Legislative Council, which provides legal counsel to state legislators, questioned its legality, even though the Los Angeles City Attorney said the law is legally defensible.
Da Steve Cooley sent a letter to the commission stating the plan violates state regulations and would make the city vulnerable to lawsuits.
The polarizing impound policy has taken place within a heated and emotional national debate over immigration.
"What I'm saying really is easy. We all have to cut off the magnets which are drawing individuals to come here illegally," California Assemblyman Tim Donnelly said..
"We must stop rewarding people, giving them free college tuition – Hey incidentally, if you don't possess a driver's license we'll make totally new classification. Hey, when you get your vehicle impounded we'll clear that with another law."
Beck acknowledged after the commission's vote that the debate was "far from over," but insisted the policy would still crack down on unlicensed drivers who are repeat offenders or cause accidents.
"This isn't a free ride," the chief said.
The commission's vote isn't automatically susceptible to review by the City Council, but the council could vote to take up the issue.
As a personal injury and car accident attorney who does many cases throughout the City of Los Angeles, and who follows the law, I for one am against the new Los Angeles Police Policy and think that State Law should be followed.
I see many accidents where one of the parties are unlicensed and should not be on the road. Also many hit and run accidents are done by persons with no license or persons whose license has become suspended.
To reward those who don't follow the law and allow them to skirt the 30 day impound period, at least to me an accident attorney, is a threat to public safety and should not be done.
It is the Law of California that all drivers be licensed. If someone wants to drive without a license and endanger us all, they should be made to pay.
If you or your family have been the victim of a truck crash, car crash, or other motor vehicle accident in Los Angeles or anywhere in California call us for a free consultation at 800-816-1529 x. 1, or go to http://www.thepersonalinjury.com.
Los Angeles Car Accident Attorney Website