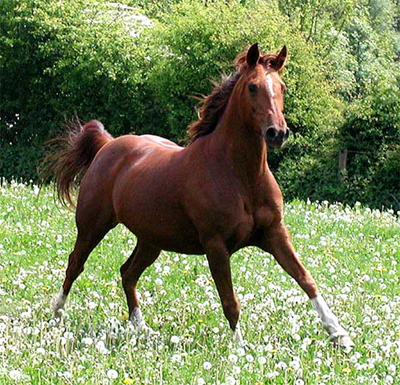 A Valley Transit Authority bus carrying 18 passengers collided with a horse in a north Morgan Hill residential neighborhood about 7 p.m. Thursday, according to the California Highway Patrol. The horse did not immediately die, which made for a horrific scene as it flailed around for about 45 minutes until animal control officers arrived with a lethal injection.
California Highway Patrol officers arrived at the scene on Hale Avenue south of Kalana Avenue and determined it was unsafe to shoot the horse to put it out of its misery, according to the California Highway Patrol. They immediately called animal control and tri-county officers arrived before 8 p.m.
"Usually we do, however it was very close to a residential area," CHP officer Jaime Rios said. "We didn't feel that it would be safe at the time."
He said if an animal is suffering and it's on a freeway or in a rural area, officers will euthanize it. Rios said passengers did not see the horse once it was hit and suffering.
Rios said the bus on southbound line 68 was traveling about 40 mph when it struck the horse.
VTA spokesperson Jennie Hwang Loft said the horse ran loose from a group of horses in a pasture when it ran in front of the bus. She said the bus driver suffered minor injuries.
A VTA bus stop is located at Hale and Kalana avenues, but authorities are unsure how near it was to where the accident occurred. The roadway was closed for about 90 minutes and the bus was eventually towed away. The horse was taken away by tri-county officers. Passengers were eventually picked up by another VTA bus and taken to their destination.
No passengers reported any injuries, but the bus sustained extensive damage, according to the VTA. Rios said no drugs or alcohol were involved.
Authorities are still working to locate the owner of the horse and plan to contact neighbors today. There will not be any criminal charges filed because no passengers were injured. Rios said he can't say if there would be any civil charges filed.
A man who drove by the incident, but did not want to be identified, said the horse was laying in the middle of the street, flopping around.
"I've seen a lot, but that was pretty brutal," he said.
All animal owners in California are strictly liable for the acts of their animals. If any of the bus passengers, or the bus driver was injured in this crash, the animal owner would be liable for their injuries because they failed to contain their animal, and let it get loose.
All California animal owners must ensure that their animals are not let loose and are contained. Had the owner of the horse not let the horse get loose this potentially devastating accident woudl not have happened, and the horse would still be alive.
 Morgan Hill Bus Accident Attorney