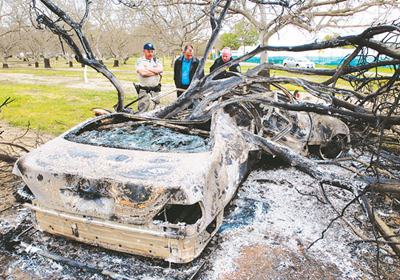 The California Highway Patrol is attempting to ascertain the identity of a motorist killed early Friday in a fiery car crash near Winters.
A CHP spokesman said the exact time and circumstances of the crash remain under investigation and, due to the fire that engulfed the car shortly after the early morning collision, neither the identity, sex or age of the driver could be confirmed.
Officer Marvin Williford said the crash occurred sometime before 6 a.m., when the car, a Mercedes-Benz, was traveling north along Winters Road south of Putah Creek Road. It apparently swerved out of control across the southbound lanes of the narrow rural roadway and ran off the pavement and into an orchard.
Traveling at an unknown rate of speed, the car slid sideways, sheered off a large walnut tree, then caught fire.
The smoldering wreckage wasn't discovered until about 6 a.m. when a local laborer reported the crash. When firefighters arrived, they found the fire was out and the car had been reduced to a charred shell. One occupant was found in the wreckage.
Because of the extensive damage to the Mercedes sedan caused by crash impact and the fire, CHP investigators were not immediately able to determine the exact year, model or registration of the car. The most accessible vehicle identification numbers of the car also were obliterated.
On Friday night, the Solano County Coroner's Office said the victim is believed to be a male, but other identifying information is pending further investigation.
Anyone with information about the crash can contact the Solano area office of the CHP in Fairfield at 428-2100.
Winters, California and Fairfield, California Car Accident Attorney