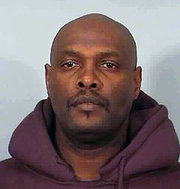 Driver Quintin Joey Watts faces a maximum of 76 years in prison for his role in the gambler's special bus crash that killed 11 passengers on their way to Colusa Casino Resort last year.
A jury of six men and six women deliberated for three hours Thursday before convicting Watts of 11 counts of gross vehicular manslaughter and 21 counts of causing great bodily injury, stated the Colusa County District Attorney today.
"I believe this is the first case in California of gross vehicular manslaughter based strictly on sleep deprivation," said the DA. "There was no alcohol, no drugs, no medication in his system, it was simply exhaustion."
Watts, 53, had slept no more than three or four hours in the 27 hours prior to the Oct. 5, 2008 Sunday night crash on a rural road, the DA said.
Watts repeatedly told investigators, "I was hecka tired," the DA stated.
"On the day before the accident, he got up at 4:40 a.m. and didn't go back to bed until 4 a.m. and got up an hour or two later," stated the DA.
Watts was on his third casino run in a day-and-a-half when he fell asleep at the wheel, three witnesses said.
One was Chouangseng Saechao, 48, "who was very badly hurt and had almost every bone broken in her body," stated a case worker at Lao Family Community Development who is helping some of the 23 passengers who were injured in the crash.
"I'm happy he's been convicted and will be in jail forever, but I feel very sad I have to carry this injury forever," Saechao said through her case worker. "Any bus driver has to be checked and has to be a good driver."
The California Legislature has passed The Charter Bus Safety Act, AB636 — sponsored by Assemblyman Dave Jones (D-Sacramento) — which will revoke operating permits of bus companies operating without proper permits or qualified drivers. The bill will suspend unlicensed bus drivers for five years.
Watts had a commercial driver's license but did not have the proper DMV certificate to allow him to drive a bus with 10 or more passengers, said a spokeswoman for Jones. "And the bus company was registered as non-operational, even though the bus in the crash was still being used," she said.
"The tragic loss of 11 of my constituents to a rogue bus operator demonstrates the need for the 'one strike and you are out' approach," Jones said. "I have no patience for those who undercut the process, thumbing their nose at regulations, and making California roads unsafe for us all."
Gov. Schwarzenegger has until Oct. 11 to sign or veto the bill.
California Bus Accident Attorney