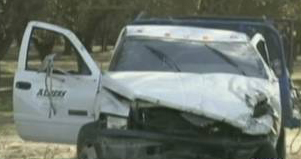 Three people were killed in a head-on crash Wednesday afternoon on Highway 46 north of Bakersfield. Friday, four people were killed in an accident on the same highway.
The accident happened at about 2:53 p.m. on Highway 46 just east of Wildwood Road. That's between Wasco and Interstate 5, not far from Wasco State Prison and the Wasco Valley Rose golf course.
California Highway Patrol officer Robert Rodriguez said a small Toyota was attempting to pass another car on the two-lane road. When the driver of the passing car realized he didn't have enough room, he tried to get back into his lane, but lost control.
The Toyota slammed head-on into a Dodge Ram pickup, Rodriguez said.
All three people in the Toyota were killed instantly, he said. The driver of the pickup was taken to Kern Medical Center with moderate injuries.
On Friday, one car passing two trucks slammed head-on into another car, killing two people in each.
Highway 46 is sometimes known as "Blood Alley" because there have been so many accidents. It is two-lanes in most places between Highway 99 and Paso Robles.
California Wrongful Death Lawyer and Bakersfield Car Accident Attorney Website