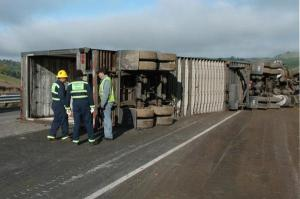 Just minutes after the roadway on northbound Highway 101 was cleared when a big-rig overturned early Monday morning – snarling traffic for several hours – a second four-vehicle wreck in Novato jammed traffic in the same direction.
The second accident occurred at 11:38 a.m. just north of Atherton Avenue and blocked the two left lanes, said Officer Peter Van Eckhardt of the California Highway Patrol.
The wreck involved blue and silver pickup trucks, a small sedan and a gold Lexus. The sedan was lodged under the blue truck, trapping two people, Van Eckhardt said. They were transported to a local hospital; additional details were unavailable.
The single-vehicle big-rig accident at 6 a.m. blocked one lane of traffic that remained closed till 11:30 a.m. while workers emptied a load of vegetables, Van Eckhardt said.
The accident occurred when the Save Mart Supermarkets big-rig overturned just north of San Antonio Road, Van Eckhardt said. The cause of the wreck was under investigation.
The driver suffered minor injuries and was taken to Santa Rosa Memorial Hospital, Van Eckhardt said.
If you or your family have been the victim of a truck crash, car crash, or other motor vehicle accident in Novato or anywhere in California call us for a free consultation at 800-816-1529 x. 1, or go to http://www.thepersonalinjury.com
Novato California Truck Accident and California Car Accident Website