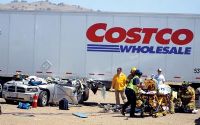 California
The Santa Clara County Coroner's Office has released the identity of the Turlock man killed in Thursday's accident on Highway 152, while a California Highway Patrol spokeswoman noted how the involved big-rig driver had been making an illegal U-turn as the car with the victims approached at a high rate of speed.
The man killed was Simardeep Bhatia, 18, according to the coroner's office. Earlier today, the CHP released identities of a man and woman who have survived the accident. The female driver of the 2006 Dodge Charger that slammed through a big-rig's trailer was Gurvinder Chamal, 19, of Ceres, while the other passenger was Jasbir Singh, 18, of Hughson, said Matt Peters with the Hollister-Gilroy office of the CHP. Both remained in critical condition at Regional Medical Center of San Jose as of this morning, he said.
Bhatia's sister spoke briefly today about the accident.
"I just really miss him," Rinku Bhatia said. "I can't believe that it happened. He was really a nice person. He was really friendly to everyone, and we love him a lot. And we just want everybody to pray for us."
The truck driver, 57-year-old David Jones of Hayward, attempted an illegal U-turn, entered the dirt median with the vehicle's front end and blocked the eastbound lanes with the trailer, CHP spokeswoman Erica Elias said. The driver of the Charger traveled at a "high rate of speed" and did not react quickly enough to avoid it and the car "collided into and drove underneath the semi-trailer," Elias said.
The car's roof "was completely sheared off," Elias said. She said Calfire pronounced Bhatia dead upon arrival.
The truck driver was not immediately arrested or cited, Peters said at the accident scene.
This is a terrible accident that caused the wrongful death of an 18 year old passenger, and critical injuires to another passenger and driver.
If you or your family have been the victims of a wrongful death or car accident in California you may call our office for a free consultation 7 days a week, 24 hours per day at 800-816-1529 ext. 1.
California Car Accident and Wrongful Death Attorney.