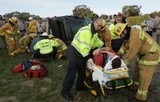 Seven people were injured, including four Washington state residents, when a SUV rolled over Thursday afternoon while going south on Highway 101 near Vineyard Avenue in Oxnard.
The accident was reported about 1:45 p.m., said Steve Reid, a spokesman for the California Highway Patrol in Oxnard.
The seven, and an eighth person who was not injured, were on their way to a swim meet at California Lutheran University when the vehicle they were riding in overturned into the dirt portion of the highway's center divider, Reid said.
The incident started after a tanker truck traveling in the same direction tried to move from the third to the second lane, Reid said, causing the driver in the second lane to swerve into the first lane, where the SUV was.
Reid said Kyle Homad, the 23-year-old Seattle man driving the SUV, lost control of the vehicle and it overturned, landing on its side.
Homad received minor injuries, including cuts to his face, the CHP reported. He was taken by ambulance to St. John's Regional Medical Center in Oxnard.
Six of the seven people riding with Homad also received minor injuries, Reid said.
Everyone in the vehicle was wearing a seat belt.
While the vehicle that swerved to avoid the tanker truck stopped at the scene, the truck continued south on 101.
Anyone who saw the accident is asked to contact the Ventura CHP at 805-477-4100.
If you or your family have been the victim of a truck crash, car crash, or other motor vehicle accident in Oxnard or anywhere in California call us for a free consultation at 800-816-1529 x. 1, or go to http://www.thepersonalinjury.com
Oxnard California Truck Accident and Car Accident Attorney